EYET+ PICK LT and ZV


BIN-PICKING
THAT WORKS
WHY YOU SHOULD CHOOSE
OUR BIN-PICKING SYSTEM?
We deliver to you all the tools to manage the vision system completely on your own:
You can configure new products without any extra-cost
On-line guides and tutorials
Training course to learn how to use the system and be independent on installation phase
Speed-up your feasibility tests and remove all the issues related to the installation activities:
Improve your return of investment:
Optimize the bin-picking process with our digital twin
Reduce cycle times thanks to IT+Robotics predictive algorithms
Increase your plant performances
WHY CHOOSE EYET+ PICK,
THE SOLUTION TO 3D RANDOM BIN-PICKING
The operator is no longer subject to strenuous work but focused on improving line performance
You are no longer forced to change mechanical components when changing the product
Compact and flexible solution. You can install the system without changing the production line.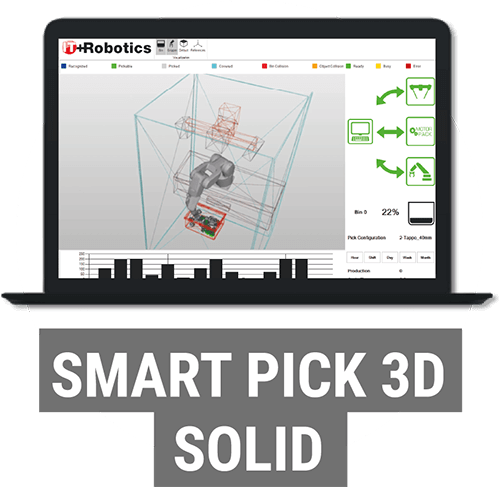 The user-friendly graphical interface enables the system integrator to easy integrare connect the robot with the vision system and to configure without any help the recognition of the objects using its CAD model.
Gripper and gripping points management 
Robot trajectories management, extended collision avoidance engine

 

Advanced software filters for reflective parts management

 
This list is constantly updated.
TEST US WITH YOUR BIN-PICKING REQUEST. START HERE.
Contact us here and discover how bin-picking can improve your business!