EYET+INSPECT


VISUAL INSPECTION ON 100% OF PRODUCTION
EYET+INSPECT
VISUAL INSPECTION ON 100% OF PRODUCTION WITH 3D FIXED OR ROBOT-MOUNTED SENSOR
WHY ADOPTING OUR
QUALITY CONTROL SYSTEM?
Use visual feedback to configure inspection in real-time
Standard communication: works with every robot
Combines 3D for inspecting the shapes with a quick 2D for inspecting the surface
Easy to integrate in the production process
Industry 4.0 ready
Robust and precise acquisition combining 2D and 3D vision
Less than a 1-year ROI on average
Optimize you production line with early detection
Real-time visual feedback reduces configuration time
Keep everything under control, with detailed stats
Automatic controls are based on easy-to-learn and easy-to-use software
INSTALLATION
IN 4 EASY STEPS
Assembling
Easily install EyeT+ Inspect in your production line
Integration
Interface EyeT+ Inspect with your PLC or robot by using our config tool
Set-up
Use our own Smart Inspect software to set the inspection tasks
Production
That's it! Monitor production status and analyze stats to optimize production and ROI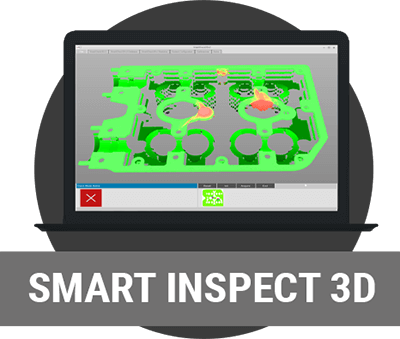 The solution to configure your inspection tasks and analyze stats
EASY
Quickly define the inspection tasks, starting from a 3D master reference
FLEXIBLE
Manage several different sceneries. Laser line or structured light technology.
INTEGRATED
Totally integrated with Eyet+ Inspect: both laser-based or structured light-based
INTUITIVE
User friendly interface for system diagnosis and configuration
This list is constantly updated.
ARE YOU LOOKING FOR A CUSTOM INSPECTION SOLUTION?
Contact us and together we will develop the vision system that best suits your specific needs!